Using Quick View
Quick View allows your customers to see more details about a product and add it to their cart without having to go to the individual product page, leading to a more fluid checkout flow. Enabling, disabling, and customizing this feature differs based on the theme applied to the store.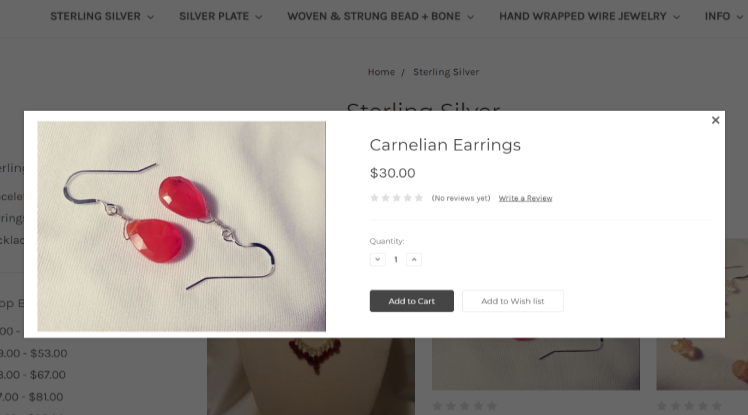 Is your store using a legacy Blueprint theme? Quick View settings can be found in Settings › General, under the Display tab. See Blueprint Themes for more information on managing Quick View settings in your control panel.
Quick View on Stencil Themes
Quick View is enabled by default on all Stencil themes. It can be adjusted in Page Builder. The steps outlined here are written for the Cornerstone theme. If you are unable to find this setting in Page Builder, check your theme's developer documentation.
1. Go to Storefront › Themes, then click Customize to launch the Page Builder.
2. Click to expand the Products menu, and scroll down to Display settings.
3. Uncheck the box next to Show quickview button on product cards.
4. Click Save to save your changes, then click Publish to update the storefront theme.
You can customize the button's colors by using the Page Builder and by editing the theme files directly.