Data Solutions
The Data Solutions area of your control panel allows you to implement a variety of third-party tracking services, such as Facebook Pixel and Google Analytics, to help you better understand the performance of your storefront and other marketing tools.
To get started, go to Settings › Data solutions.
Web Analytics
These tools help you to discover how people find and interact with your storefront. To set them up, you'll typically paste in a piece of code you got from a third party. To get started, click Connect beside the tool you want to set up.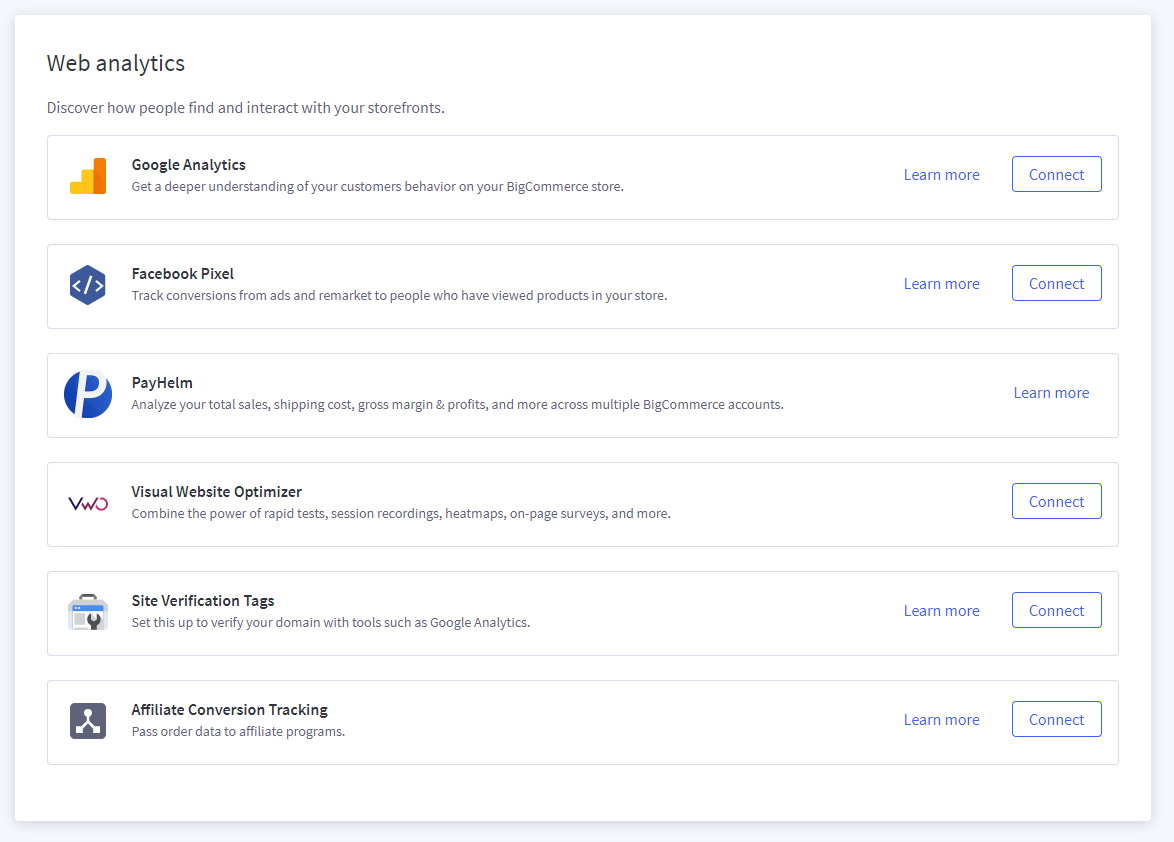 Click the Learn More link in the control panel or use the list below for more information about what each tool is and how it works.
Data Warehouses
Connect with a data warehouse to analyze your data with SQL and/or connect to your business intelligence platform of choice for custom reporting and analysis.
BigCommerce has a built-in integration with Google BigQuery. You can also use Skyvia to send your BigCommerce data to all the leading data warehouse solutions such as Snowflake, Amazon Redshift, Microsoft Azure, and more.
Business Intelligence Platforms
Once you've sent your BigCommerce store's data to a data warehouse, you can create custom reports by connecting a BI platform.
Customer Data Platforms
Collect events across all sales channels to create a single view of the customer.
FAQ
How can I see if changes were made to my connected data solutions?
In your store's Staff Action Log, you can see a history of changes to the following data solutions:
Visual Website Optimizer
Site Verification Tags
The logs provide information on what change was made to the data solution (connection, disconnection, or script update), when the change was made, and which control panel user made it.