Store Owner User Role and Permissions
The Store Owner is the primary user for your entire BigCommerce account. It is the first user account created when you start a new store and is granted all administrative permissions.
Permissions Exclusive to the Store Owner
Only the Store Owner can:
Determining Which User is the Store Owner
Unless you've changed it, the Store Owner email address is the same address you used to create your trial store and BigCommerce account.
If you are not sure if you are the Store Owner, go to Account Settings › Users. The Store Owner's email address will be listed as owner under User Role.

If you don't see Account Settings or Users in the navigation, your user account has not been granted permission to access those areas and are not logged in as the Store Owner.
FAQ
How can I change the store owner to a different user?
You must be logged in as the current store owner in order to change the store owner user. Go to Account Settings › Users, click the Action button next to the user you want to assign as store owner, and select Edit. In the User Role dropdown, select Store Owner.

Confirm the ownership change by submitting a verification code in the pop-up window. This verification code can be found in an email sent to the current store owner's email address. If you do not see the verification email in your inbox, click Resend code to have another sent to you.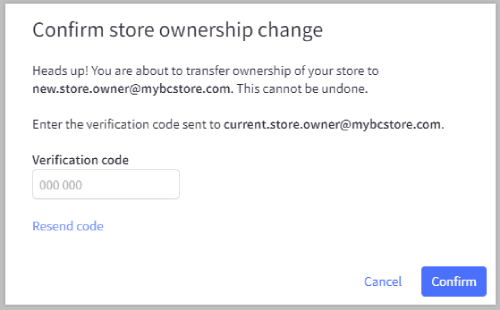 After entering the verification code, click Confirm and save your changes to complete the ownership transfer. Note that after three unsuccessful verification attempts, you will be logged out of the control panel and locked out of your account. If this happens, follow the steps in Unlocking Your Account to log back into the control panel.