Uploading and Linking to a File in Your Store
When you want to provide a free download on your store, such as a free e-book, size chart or assembly instructions, you can link directly to a file on the product page or on its own web page. File types that you can upload include images, documents, and PDF files. This article covers how to first upload the file, then link to it via a Web Page or the WYSIWYG editor. Keep in mind that WebDAV has a limit of 512 MB per file.
Uploading a File
Connect to your store via WebDAV and double-click on the content folder.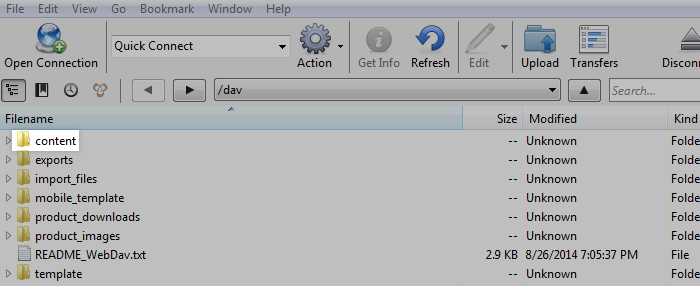 Did you know? In WebDAV, you can create subfolders inside the content folder to organize your files. You will need to include the subfolder name in any links, using the format of /content/subfolder/filename.pdf instead of /content/filename.pdf.
Drag and drop your file into the content folder. You may be prompted to re-enter your password. In our example, we're using "FileName.pdf".

Filenames are case-sensitive and should have no spaces. When creating a link in the steps below, ensure that the filename has no spaces and that the link matches the filename's letter case. You can rename the file after uploading it.
Now that you uploaded the file, there needs to be a way for your customers to access it. We will cover how to link to a file using a web page link and the WYSIWYG editor.  
Getting the File Link URL
For linking to your file within BigCommerce, you can reference your file using the format /content/filename.xxx (e.g. /content/FileName.pdf). However, you will need the full,publicly-accessible URL in order to share your file in email or HTML. This format will be https://[yourstoredomain.com]/content/FileName.xxx . Include subfolders, if using.
You can also get the absolute URL by locating your file in WebDAV and right-clicking the file name. Click Copy URL, then select the HTTP URL. (Do not select the HTTPS URL, which contains /dav/, because it will require your store's WebDAV login to view.)

Using a Web Page to Link to a File
You can use a web page to link directly to a file in your store's navigation menu, without using any coding. This is a good solution for sharing newsletters or brochures.
Go to Storefront › Web Pages, then click Create a Web Page.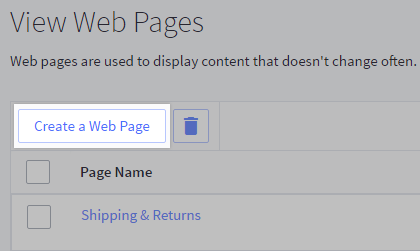 For This Page Will, select Link to another website or document.

Assign the Page Name, and enter in the location of the file using the format /content/filename.xxx (e.g. /content/FileName.pdf).
Save your changes. Your file link will appear in your site's navigation menu.
Using the WYSIWYG Editor to Link to a File
The WYSIWYG editor is available when creating a web page or editing a product description. This allows you to add links to files, such as standalone sizing charts or product support information.
Edit the product or web page content that you are adding the link to. Inside the Description or Page Content field, highlight the text that will be linking to the file, then click the Link button.

In the Link URL field, enter the location of the file with the format /content/FileName.xxx (e.g. /content/FileName.pdf).

Click Insert when finished. The linked text will now be blue and underlined. If you need to edit your link, click on it then click the Link button. Save your changes when done.

Using the WYSIWYG Editor to Embed a Video or Audio File
The WYSIWYG editor can also be used to link a video or music file by embedding the data directly into the page. It's an alternative to integrating media from external sources, like Youtube or Vimeo.
Using the WYSIWYG editor for the page or product you're embedding media in, click the Insert/Edit Embedded Media icon.

Choose either HTML5 Video or HTML5 Audio from the Type drop-down menu. Then in the File/URL field, enter the location and media file name using the format filename.extension (e.g. filename.avi).

Click the Advanced tab and enable Controls. This will add play and pause buttons to the media file.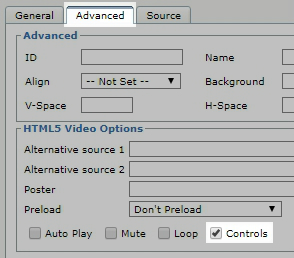 Click Insert and Save when finished. The media file will now be embedded into your page.
FAQ
Is there a limit to the size of files I can upload to WebDAV?
Yes, WebDAV has a limit of 512 MB per file.
How many files can I store in the content folder?
You can store up to 4,000 files in a single folder. If you are storing more files, we recommend creating one or more subfolders.
Why are my customers being asked to log in to view a file?
If you copied the URL with /dav in it, anyone wanting to view the file will be prompted to log into WebDAV. To prevent this, remove /dav/ from the URL.
What file types can I upload to the content folder?
Many common file types are supported in WebDAV, including PDFs, MP4 videos, and PNG images. Executable (.exe) files are not supported.
How can I link to a video or other file that exceeds the file size limit?
To link or embed a file greater than 512 MB, we recommend uploading your video to a third-party hosting service like YouTube and linking to it in WYSIWYG. You can also use one of the apps in the Images & Rich Media section of our App Marketplace to upload your video.