Connecting with BitPay
BitPay is one of the world's largest providers of Bitcoin and cryptocurrency payment services. With BitPay, you can accept Bitcoin and other leading cryptocurrencies, gain new customers, reduce payment processing fees, and eliminate chargebacks.
With support for more than 100 cryptocurrency wallets, BitPay protects you against market volatility, and settles the next business day directly to your bank account or wallet. From setup to settlement, BitPay makes accepting cryptocurrency payments easy and risk-free.
Setup
If you do not currently have a BitPay merchant account, you can apply for one.
Once you have an account, log in to your BitPay merchant dashboard and create an API Token. When creating the API token, ensure that the Required Authentication checkbox is not enabled. We recommend using the Token Label field to indicate the token's purpose, such as "BigCommerce", so you can easily identify it in your BitPay account dashboard.
Go to Store Setup › Payments in the BigCommerce control panel and select BitPay from the list of Online Payment Methods.

You will be taken to the BitPay Settings tab. Enter the API token from your BitPay merchant account into its corresponding field and set your preferences. Click Save when done.
Display Name — Control how BitPay appears at checkout. We recommend something like Pay with cryptocurrency with BitPay.
Test Mode — Determines whether your store is in Test Mode, which allows you to safely test your payment configuration without processing live transactions. Use the checkbox to toggle this setting for BitPay.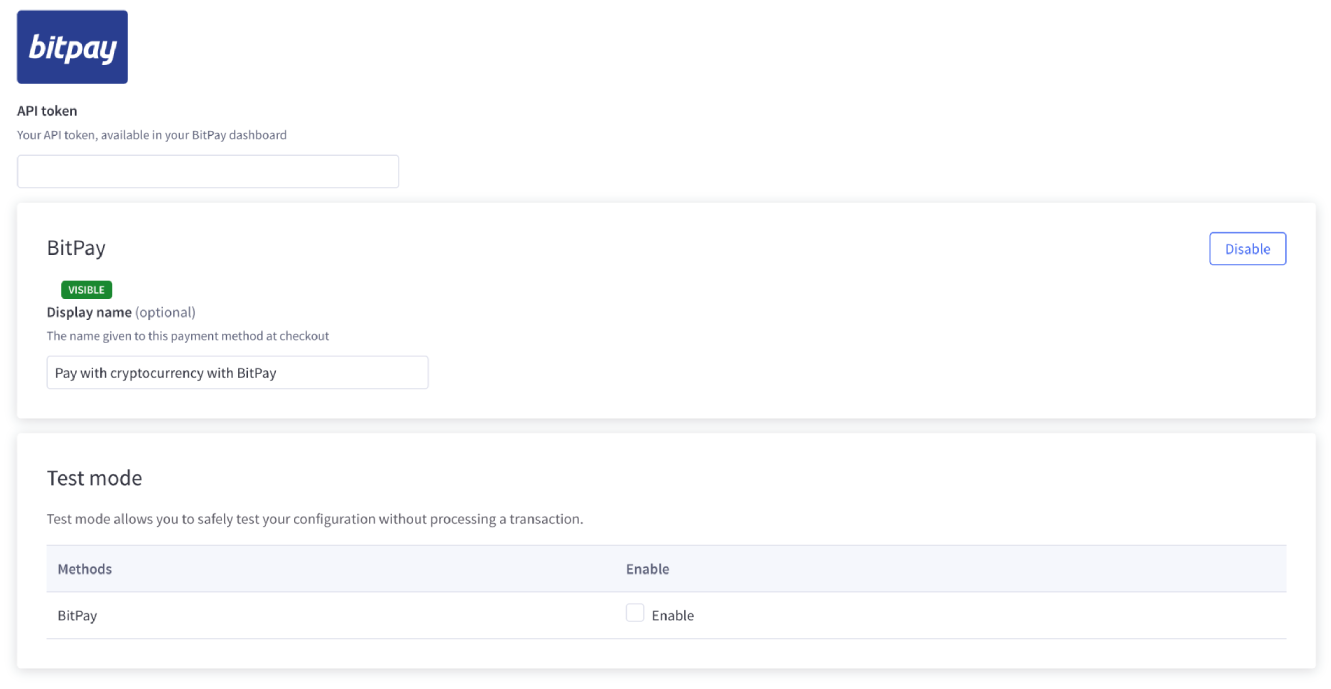 Common Questions
General
Can shoppers check out without having a BitPay account?
No, shoppers need to log into BitPay or create an account. This is to ensure that transactions remain secure at all times during checkout.
Pricing and Fees
What fees are associated with BitPay?
BitPay charges a low processing fee on all transactions. See BitPay's pricing page for more information.
Account Eligibility
What currencies and countries does BitPay support?
Countries: BitPay supports payment processing and cryptocurrency settlement for merchants in nearly 230 countries and territories. For more information about why a country or territory is not on this list, see BitPay's documentation on sanctioned countries and individuals, and prohibited countries and territories.
Currencies: BitPay supports leading cryptocurrencies, including Bitcoin (BTC), Bitcoin Cash (BCH), Dogecoin (DOGE), Ethereum (ETH), Litecoin (LTC), Shiba Inu (SHIB), Wrapped Bitcoin (WBTC), and USD-pegged stable coins (BUSD, DAI, GUSD, USDC, and USDP). See BitPay's documentation on currencies for more information.
What items are restricted for merchants to sell?
In addition to the Prohibited Uses listed in BitPay's Merchant Terms of Use, the following categories of businesses, business practices, and items for sale are prohibited from Acceptance Services. Most prohibited business categories are imposed by the requirements of banking providers or regulators. This list is non-exhaustive, and BitPay reserves the right to modify it at any time. It is within BitPay's sole discretion to determine whether an activity falls into a prohibited business category.
If you are uncertain as to whether or not your use of the Acceptance Services involves a prohibited business, contact BitPay about how these requirements may be applicable to you.
Prohibited businesses include the following:
Drugs and drug paraphernalia, such as narcotics, controlled substances, and any equipment designed for making or using drugs;
Marijuana/cannabis dispensaries and related products and businesses;
Weapons, munitions, gunpowder and other explosives, including fireworks;
Toxic, flammable, and radioactive materials;
Pseudo-pharmaceuticals;
Substances designed to mimic illegal drugs;
Sexually explicit content;
Sexually-related services;
Pyramid and investment schemes, multi-level marketing schemes, and other unfair, predatory or deceptive practices;
Items used for speculation or hedging purposes, such as derivatives;
Credit and collection services;
Items that infringe or violate any intellectual property rights such as copyrights, trademarks, trade secrets or patents, including counterfeit or unauthorized goods;
Products and services with varying legal status from state to state;
Transactions that disclose the personal information of third parties in violation of applicable law; and
Transactions related to cloud-mining.
Transactions
After I create an account, what is the waiting period before I can process transactions?
Once your application is approved, you have immediate access to your BitPay merchant dashboard. After you add the authorization token to the BitPay Settings tab in the BigCommerce control panel, you can start transacting.
How long until the funds are transferred to my bank?
Settlement payments for BitPay merchants happen automatically, every business day. BitPay collects and deposits all payments processed from the previous business day directly to your bank or cryptocurrency wallet, according to your settlement preferences. For more information, see BitPay's documentation on banking and settlements.
Will I or my customers receive an additional email or invoice from BitPay?
No, BitPay does not require or send an additional email or invoice.
Refunds
How soon after a transaction can I perform a refund?
A refund can be performed immediately after a transaction has been completed. However, your BitPay ledger must have enough funds to process the refund. If it does not, you will receive an email notifying you that your BitPay account has insufficient funds to process the customer's refund.
Is there an amount of time after which I cannot perform a refund?
A refund can be performed at any time.
Are there any fees for chargebacks/refunds?
One of the greatest benefits to accepting cryptocurrency payments is there are no chargebacks with blockchain payments. BitPay does not charge a refund fee, but there might be a network fee to issue the refund. See BitPay's documentation on the Network Cost fee for more information.
Additional Features
Are there any fraud filtering options available?
No.
Does BitPay allow authorize-only or recurring/subscription payments?
No.
Does BitPay support multicurrency? (supported by BigCommerce multicurrency)
No.
Does it support cryptocurrency?
Yes, BitPay is one of the largest bitcoin and cryptocurrency payment processors in the world.
Can I use the same account for multiple storefronts?
Yes, provided the additional storefronts are part of the approved business entity.
Troubleshooting and Payment Disputes
Why did my client receive an error when trying to pay?
The most common payment errors are for insufficient funds and/or the invoice has expired. See BitPay's article on Paying with Bitcoin and Cryptocurrency for more information on paying BitPay invoices and resolving common payment errors.
How are payment disputes handled?
Payment disputes are extremely rare, but if one does arise merchants are encouraged to contact BitPay's support team via the BitPay Help Wizard.
How do I contact BitPay's support?
Merchants are encouraged to contact BitPay's support team via the BitPay Help Wizard.